Cleansing for Heart Disease
Can Cleansing Prevent Heart Disease?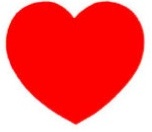 Heart disease is a serious problem affecting many North Americans. Although some people are genetically inclined to suffer heart disease, there is another factor in America that leads to the prevalence of this problem. In North America, our diets play a huge role in the illness and disease we all deal with.
Heart disease is very directly linked to diet. A diet high in saturated fats, trans fats, sodium, food additives and flavors, and refined sugars take a massive toll on your body. Over time, these toxic foods translate into many common diseases; heart disease is merely one of them.
Some Easy Cleansing Tips
If you suffer from heart disease, you should know that fried foods and fast food are out of the question if you want to live life to its fullest. These foods have trans fat, a particularly dangerous fat from heating oils. Trans fat is difficult for your body to store or get rid of, and it stays in your blood stream for long periods of time, during which it is very likely to deposit on your arteries and clog them.
Any refined foods can have trans fats as well, even if it is not on the label. The law says that companies don't need to mention trans fats if they are below a certain percentage of the total fat in your food. This means potato chips and other foods have trans fats they don't have to tell you about. If you want to avoid or heal heart disease, you will have to remove fried foods and refined foods from your diet.
Cleansing for Heart Disease
For heart disease, you need to eat foods high in antioxidants like berries, which have proanthoncyanidins, which prevent heart disease and cancer; broccoli and other brassicas, which have antioxidants and beta carotene to fight heart disease; and garlic, an antioxidant powerhouse, which helps your body shed toxins and fat, and fights cancer and heart disease. Studies have shown antioxidants to be more important than cholesterol when it comes to fighting and preventing heart disease.
In addition to eating more healthy, whole foods like whole grains, vegetables, fruits, nuts, and seeds, you want to eliminate refined sugars, fats, flours, starches, preservatives, artificial colors, flavors, eggs, dairy, and red meat. If you are cleansing for heart disease, you have to get serious. The foods just listed are probably the foods you are used to eating, but they are bad for your body, your heart, and your other organs.
You can prevent and heal heart disease. Your body is specially made to heal and regenerate; it just needs the proper nutrients, plenty of exercise, and a break from all those chemicals and refined or acidic foods. Start cleansing today using healthy, natural foods because heart disease is not something to ignore for even a second.