Cleansing for Weight Loss: Out-Energize Your Kids!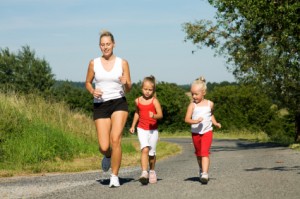 Cleansing for weight loss is about more than losing weight – it could mean gaining a family.
Most people watch their children with a kind of awe at their endless energy and enthusiasm – from the sidelines. Very few of us remember having that kind of energy, but it is certain that, at one time, all of us did.  So how do we get that energy back?
The answer, of course, lies in the body. An energetic body is one that is not weighed down by toxic foods and extra pounds, gets plenty of rest, and has the nutrients it needs to complete the processes which keep us all alive every day. That is why a undergoing a natural body cleanse and cleansing for weight loss can make you feel like a kid again.  You can even have an amount of energy that your children will find hard to match!
Cleansing for weight loss really means renewing and energizing your body.
Weight loss is not the number one benefit: your health is.  When you begin cleansing for weight loss you do three major things for your body that it desperately needs: you help it shed toxins, parasites, dead tissue and tumors, and rotting food and fecal matter; you restore its pH balance and the friendly bacteria that keep us all healthy and help us absorb nutrients from our food; you provide it with nutrients and enzymes that aid cell renewal, cleansing, and the regeneration of healthy tissues.
These are all things your body has a hard time doing when it is fighting off toxins from food, processing more chemicals, and fighting high blood pressure and extra pounds. Antibiotics and poor eating habits also work against the body by killing healthy bacteria and disturbing the pH balance of the blood. Your body also expends a lot of cleansing energy digesting processed foods and dairy.
When you eliminate the foods and additives that overwhelm your body, your liver, kidneys, colon, and skin can get to work eliminating stored toxins and cleansing for weight loss while increasing health in your body. You will also give your digestive system a break so that it can also clean itself and have time for elimination and cell renewal. Your body will be able to free itself of the foods and chemicals that are sapping your energy and making you tired, achy and moody.
Cleansing for weight loss will change your life and the lives of your loved ones.
Body cleansing in general is better than any caffeine or energy drink available, because it truly uses the body's natural ability to renew and heal itself. Unlike drinking coffee or taking a stimulant, which causes you to be more tired and lowers your quality of sleep, cleansing provides more and more energy and better eating and sleeping habits the longer you do it. If you want energy to keep up with, or even out-energize your kids, cleansing is the key. Cleansing for weight loss can give you your family time back, so you really have nothing to lose, and everything to gain from getting healthy right now!