Cooked Fats and Your Health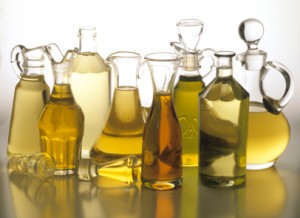 Every time you eat cooked fats, you add toxic fuel to your body.
By now, most of us realize that fried foods are bad for us and that we need to avoid trans fats as often as possible. But did you know that cooked fats are equal to trans fats? Trans fats are cooked fats that have been changed at the molecular level so that your body does not recognize them.
When you heat an oil beyond the temperatures it can withstand, the results are dangerous new cooked fats that the body cannot break down or get rid of easily. This means trans fats stay in your blood stream much longer than regular fats, increasing the chances that they will get deposited on arteries and form plaque build-up. This build-up then puts you at increased risk of coronary heart disease, diabetes, Alzheimer's disease, and obesity.
It's time to seriously think about cooked fats in your diet.
What oils do you cook with? How much fried food do you eat? Since their discovery, trans fats have been the subject of more appropriate and candid labeling, and many restaurants have made a commitment to cook with oils that can withstand higher temperatures without suffering molecular damage; however, many of us at home are still cooking with vegetable oils that produce trans fats when heated.
A surprise about cooked fats: even though restaurants may advertise "No Trans Fats," as soon they cook your food with them they become trans fats!
Get ready for another surprise because one of these dangerous cooked fats can be olive oil if you don't use a high grade olive oil or if you heat it too much. Olive oil can lose its health benefits if overheated. This means it is good for light sauteing, but should never be used to fry foods or cook them for longer periods of time.
Instead, reserve olive oil for dressings and dipping, and cook with an oil that can stand the heat, like safflower or coconut oil. Also, eat fewer cooked foods and more raw whole foods.  It is one of the best things you can do for your body and the best way to avoid cooked fats altogether. Another way to avoid cooked fats is to steam your vegetables. Remember, cooking spray and margarine are not good alternatives.
Trans fats are dangerous, and they cause an array of health problems. Avoid the bad cooked fats by knowing how your food is prepared when you go out to eat, cooking with better oils at home, and eating more raw, whole foods. You can also help your body remove bad fats by undergoing a body cleanse.
Keeping up on exercise and avoiding other toxic foods are more ways you can undo damage that might have already been caused by eating cooked fats.