Detox for Meat Lovers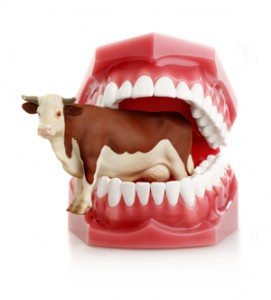 If you want to detox but aren't sure that you can handle giving up meat in your diet, there is nothing to fear.
The truth is, while most detox diets insist that you cut meats and other animal products out of your diet completely, at the Total Wellness Cleanse, we recognize meat as a source of protein, iron, and B vitamins. We recommend moderate amounts meat as part of a healthy eating program. The only catch is in the kind of meat you eat.
Fish is a wonderful source of protein, omega 3 fatty acids, and other special nutrients, but it is not the only type of meat you can eat while detoxing. The key with fish is to make it organic as possible, and limit it, since most fish contains mercury, which is a poison. Another excellent meat choice is organic, grass-fed beef.
Only grass-fed beef contains omega 3's, and only grass fed beef will be free of hormones and other drugs. Grain fed, factory farmed cattle are unhealthy for many reasons, one of which is they are given a number of drugs and other treatments to help them digest grain, which is not a natural food for them.
Chicken, although lean and protein rich, is much like beef; you must be certain you are getting organic, free range meat, otherwise, what you are eating will be unnatural.
There are many recent documentaries and much available information regarding the dangers of factory farmed meats. These meats are harvested from animals who are sickly, unable to move, pumped with antibiotics, and raised in miserable conditions. If you choose to eat meat, always go as organic, free range, and natural as possible.
This means avoiding deli meats completely. We know that they are tasty, salty, and sweet, but they are also, quite literally, cancerous. The preparation, cooking, and preserving of deli meats is a process which strips it of its nutrients and fills it with corn, wheat, or artificial fillers. Some of the preservatives and flavors used are actually toxins, and these meats are some of the worst out there.
Finally, if you eat meat for a meal, eat it with a fresh, green salad, or a few berries and nuts. Avoid starches and yeasts, which make your system work too hard, and cause it to leave much of your food undigested. The classic diet of meat and potatoes, for instance, is detrimental to your health, and causes the colon to become plugged and toxic.
Two different enzymes in your stomach are needed to process starches and meats. When present together, as in the case of digesting both meat and potatoes, the two enzymes neutralize each other, making digestion less effective.
So, when it comes to detox diets and meat, just go organic and natural, and eat dark, leafy greens with every meal. Also, limit your meat intake to a few times a month. While meat is part of a healthy diet, it should not be the whole diet. Remember, your diet should be seventy percent, raw, whole, natural fruits and vegetables if you want to feel great and be healthy.