Do I Need a Multivitamin While Cleansing?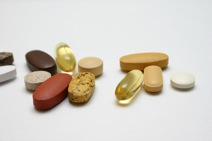 My doctor recommends supplements – do I need a multivitamin?
While we stress that the best nutrients come from foods, not supplements, we also realize that taking a daily multivitamin may be necessary for some people. While body cleansing, it is wise to eat the most nutritious, whole foods possible to give your body nutrients without the added burden of processed foods and chemicals. While a multivitamin may not be necessary during this time, it really depends on your level of heath.  Most people are deficient in a lot of vitamins.  As long as you do your research and take a good quality vitamin, supplementation is neither harmful nor discouraged.  A good multivitamin is made from whole foods, and not synthetic vitamins.  While they may be hard to find, they do exist!  We recommend New Chapter vitamins, available in Canada and the US.
Do I need a multivitamin if my digestive system isn't up to par?
One thing that is important to remember is that a multivitamin can provide some vitamins, minerals, and nutrients, but, unless your body and digestive system are healthy and you have proper nutrition, your body will not necessarily be able to use and absorb those nutrients. That is why we believe that proper nutrition is far more important than simply taking vitamins and supplements, and that means removing some toxic foods from your diet.
When you eat whole, healthy, natural foods, one thing that happens, is you get a complete nutrition package, often containing essential vitamins and minerals along with companion vitamins and minerals that help your body absorb, use, and efficiently process those nutrients.
For example, vitamin E is a vitamin commonly deficient in the American diet since it is not water soluble, and can only be absorbed by the body when dissolved in certain fats. Therefore, when you eat a foods high in vitamin E, it will likely also contain the fats necessary for your body to recognize and process that vitamin, whereas simply taking a vitamin E supplement like those found in certain vitamin waters, would do nothing to increase vitamin E levels in your body.
Do I need a multivitamin if I eat primarily raw fruits and vegetables?

There are many other examples of how foods contain a complete and perfect package of vitamins and minerals, but the important thing to remember is, while supplements are not bad, they are no replacement for eating well. There is nothing wrong with continuing your multivitamin while cleansing, but don't use it as a replacement for complete, nutritious foods.  A good rule of thumb is a diet that consists of 80% whole, fresh foods.  If you eat primarily raw fruits and vegetables, you most likely don't need to take a multivitamin.
Also, be aware that taking your multivitamin at the right time can increase your absorption of certain nutrients. Certain vitamins, like iron, are best with and empty stomach, whereas others, like Calcium carbonate are better with a meal. Make sure you are not taking a vitamin simply to have it pass, unused, through your digestive system.