FREE REPORTS: 5 Detox Scams and 8 Toxic Foods to Avoid in 2011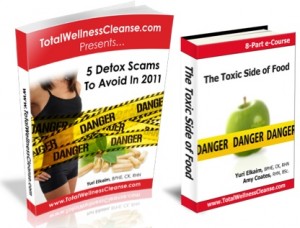 With a just few days until Christmas, I've got 2 more great gifts for you that will help you lose more weight, eat healthier, and detoxify your body from years of toxin build-up.
Because let's get real….
With New Year's just around the corner, most of us will be looking to cleanse our body from excess weight packed on over the holidays and to feel better overall to start 2011.
Are you with me?
But the problem is that too many people fall prey to dangerous detox scams that produce short-term, if any, results.
And I want to help you recognize which detox diets to avoid and what to look for in a healthy, sustainable cleansing solution.
And hat's what you're going to discover in a brand new report I just completed called "5 Detox Scams to Avoid in 2011″.
Along with this report, you'll also get one of the best nutrition reports I've ever written called "The Toxic Side of Food", in which you'll discover the 8 most toxic foods in our food supply.
You can grab these 2 reports absolutely free before this Thursday December 23.
Get yours here <————————— Click here to download
Here's what you can expect from these 2 free reports:
- The #1 thing PREVENTING your body from releasing unwanted fat.
- The SCARY truth about sugar and how to eradicate sugar cravings once and for all!
- The nasty TRICKS big food companies are using to keep you fat and unhealthy!
- The DRUG you don't even know is in your foods and what it's doing to your liver, adrenal glands, and overall health.
- 5 dangerous detox SCAMS that you must avoid (you may have already falling prey to one or more of them??), including the most popular (yet dangerous) one used by several top celebrities!
And so much more!
I'm telling you, this information is golden.
Why am I doing this? Well, "tis the season" and I want to give you the gift of better health.
Is that fair?
Here's to a healthy and happy holiday season!
Yuri
P.S. I know you'll be especially shocked by what you learn on page 12 (in the Toxic Side of Food report) about the relationship between sugar and mineral balance in the body…
And Chapter 3 will have you sitting up in your chair as I demystify one of the most commonly consumed foods that is slowly but surely making our population fatter, less healthy, and predisposing us to bone problems.