Healthy Desserts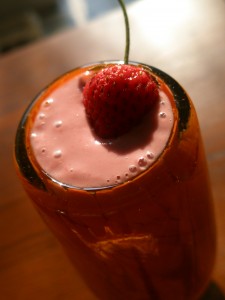 Healthy desserts are a must if you're going to succeed on any body cleanse.
Maybe you are worried that you can't have dessert now that you are eating right and getting healthy? Think again. Although avoiding processed sugars and other toxic foods takes cookies, cake, and ice cream off the menu, there are still many delicious, healthy desserts you can enjoy.
When you think dessert, think fruit. Especially sweet berries, bananas, and papaya. A fruit salad is a wonderful after-dinner treat that will satisfy your sweet tooth and go easy on your waste line. Another fantastic idea for healthy desserts is to make a banana split by drizzling fruit puree and pecans over a sliced banana.
One of my favourite healthy desserts is a strawberry shake.
You can make a healthy strawberry shake using strawberries, soaked cashews, soaked dates, and water.  You can make any fruit into one of these healthy desserts by replacing the strawberries with any fruit of your choice.  Another favorite is chopped up papaya with lime juice squeezed on top, or you can just make a smoothie with your favorite frozen fruit and some juice.
Nature has provided a plethora of satisfying, delicious healthy desserts that can satisfy you just as well as any processed food might.
When you get a sweet tooth, there is no need to go for the bad stuff.  You simply have to train your mind to want to eat natural foods instead. You can easily get away from your desire for ice cream and Popsicles by eating a frozen banana or some frozen green grapes, instead. These are wonderful for a hot day and children love them too. There are many wonderful ways to enjoy the sweet foods nature provides.
Dessert is a tradition that many of us don't want to do without. The truth is, we don't have to even on a detox diet, as long as we make good choices. We can satisfy our sweet tooth, give our bodies vitamins, minerals, and fiber, and increase our heath and energy levels all at the same time by choosing healthy desserts.
And why wouldn't you want to eat these healthy desserts?  When you choose processed sugar and refined foods, you are being very hard on your body by introducing a plethora of chemicals. Processed food also makes you more tired, gives you less energy, very little fiber, vitamins or minerals, and causes you to suffer a major sugar crash.
So, when you reach for dessert, choose healthy desserts. You can be satisfied without compromising your energy and your well-being if you reach for fruit instead of a processed sugar. Get creative, have an open mind, and do what is best for yourself every time you eat.  Start enjoying healthy desserts today!