Juice Based Detox Diet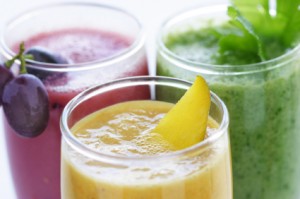 A juice based detox diet is sometimes all your digestive system needs.
Detoxing with juices is a wonderful way to increase your daily dose of fruits and vegetables. Natural juices, especially those made at home with your juicer, are contain many nutrients ideal for cleansing and detoxing the entire body. Juice can be used for a colon cleanse, a candida cleanse, or as part of a general body detox.
Breakfast is the most important meal, but not just because you need to eat. Breakfast is important because what you eat in the morning sets the tone for the entire day. Starting your day with a fresh juice made from both fruits and vegetables will mean more energy and mental alertness. It will also mean you will be more likely to continue to make healthy food decisions.
During a juice based detox diet, try starting your morning by juicing a fresh apple with 2 carrots, a few sprigs of celery, and 1 or 2 tomatoes.
Stir your juice well and drink it slowly. For more flavor and extra cleansing power, stir in fresh squeezed lemon juice and just a touch of cayenne or crushed garlic. The detox power of a juice like this will be extremely potent in the morning.
For lunch, try eating a solid fruit or a vegetable salad. Combine mangoes and avocados with lime juice and some coriander for a refreshing fruit salad, or simply eat a few apples and a handful of raw almonds to fill you up quite nicely.  For a snack, have another juice.
A juice based detox diet is not all about juice.
Any meal can be a combination of fruits and vegetables, and a meal isn't something that happens 3 times a day.  You should only eat when you are hungry, not because the clock tells you it's time to eat!  Juice one apple with a bunch of kale, spinach, celery, parsley,carrots and one or two tomatoes. This should yield enough juice to fill you up and hold you over till snack time. Congratulations, you just exceeded the FDA's recommendation for daily fruits and vegetables!
Again, a juice based detox diet does not rely solely on juices. If you need a little snack, try a solid food. Make it a fruit, vegetable, or a combination of vegetables and raw nuts and seeds. Pumpkin seeds are excellent for you, as are almonds and walnuts. Carrot sticks and pumpkin seeds make a great combination.
Eat a dinner consisting of cooked or steamed vegetables and whole grains, or if you wish, a lean organic meat. Non-glutenous grains, like quinoa and amaranth are ideal. Also, choose a meat from a grass-fed, not grain or corn-fed animal.
If you are hungry later, try a fresh fruit, dairy-free smoothie. Berries and bananas make excellent smoothies.
A juice based detox diet is this simple. There are thousands of recipes and great juicing combinations. A juice based detox diet can consist mostly of juices as a way to increase the amount of fruits and vegetables in the diet and limit the amount of cooked foods. The juice based detox diet can also help you avoid processed foods for a full detox experience!