Liver Detoxification Using Pomegranate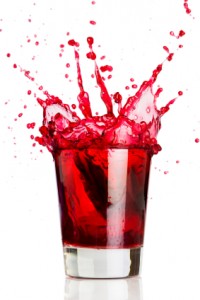 The liver is a very important organ, responsible for filtering your blood and helping your body eliminate toxins through the urine, skin, and bowels. Today, our livers are more stressed than ever and it isn't just because the majority of us drink more than our share of alcohol. The liver is also stressed by environmental toxins, food additives, toxic foods, pesticides, and other harmful agents that are relatively new to our bodies and our world.
Of all of the toxic stressors, chemicals that enter our blood through our food are some of the worst. These chemicals push the liver to its max and can eventually cause the liver to become too toxic to function properly. This toxic overload is precisely the reason a liver cleanse is necessary and valuable.
While liver cleansing has been around for quite some time, the discovery of the incredible antioxidant power of pomegranate has added a whole new dimension to cleansing. Fresh pomegranate juice has long been popular in India and in Ayurvedic medicine, and now science is able to identify certain properties and antioxidants in pomegranate that prove its power as a cleansing and healing agent in our bodies.  Note: we are talking about fresh pomegranate and fresh pomegranate juice – not processed and bottled juices.
Pomegranate has more antioxidants than green tea or red wine, it is delicious and is widely available. For liver cleansing, it is valuable for cell renewal and helps the liver and other organs eliminate toxins and fight off free-radicles and carcinogens. These qualities make pomegranate the newest discovery in liver cleansing and body cleansing.
If you are cleansing the liver or working on a detox, use pomegranate by juicing it and drinking it alone in the mornings, or by adding it into some lemon-ginger juice to target the blood and liver. Adding pomegranate to carrot or beet juice is also a great way to provide the liver with some cleansing, healing nutrients. Pomegranate/kale/apple juice is delicious and loaded with antioxidants and vitamins to purify the blood and renew the liver.
When it comes to fresh pomegranate juice and cleansing, it is difficult to go wrong. We caution you to juice yourself and not waste your money on diluted concentrates that are pasteurized and have sugar and other substances added. If you cannot juice it, you should definitely spend the money necessary to buy fresh, strictly pomegranate juice. The recent popularity of pomegranate has caused a flood of products, some healthy, some not, and it is important to make sure you aren't taking in added sugars or other chemicals.
Incorporating pomegranate into your cleanse and your daily diet is a great way to boost healthy cell renewal and aid your body in eliminating toxins and fighting off cancer and disease. Pomegranate is a wonderful liver cleanser, and it helps the rest of your body, too. Juice it or eat it raw for maximum benefits!