Natural Home Remedies to Treat Headaches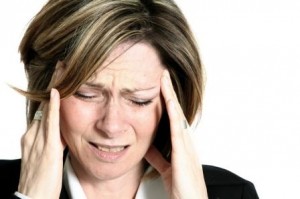 Headaches can be caused by many different things. Before treating a headache, it is best to know what caused it. Some headaches can be caused by too much stress, others can be the result of poor spinal alignment, or dehydration. Headaches can also be a symptom of caffeine or sugar withdrawal.
Often, headaches are the result of more than one thing. The important thing to do is try to determine what it is that has caused your headache, so that you can determine the best ways to get relief.
A headache from stress can set in from lack of sleep, too much work, or an intense day. Stress headaches are usually a result of mental and physical tension. Therefore, a nice massage along the shoulders and the back of the neck can do a lot to relieve this type of headache. Another relief is a warm cloth across the eyes, while the legs are elevated and the head is back. Long slow breathing should be incorporated.
Caffeine or other withdrawal-type headaches can be extremely painful, and can also come with a good deal of irritability, or even be accompanied by nausea. If you are nauseous, try either sucking on an ice cube or drinking warm, slightly salted water, since plain water will only further upset your stomach. Take a hot shower, and drink decaffeinated herbal tea. Do your best to relax, sleep if you can, and stay hydrated.
One symptom of severe dehydration is a headache. If you think that dehydration might be causing your headache, you should immediately drink a glass of room temperature water. Then suck on an ice cube, so that your tongue and mouth can absorb the water faster, without overburdening your stomach with it. Since dehydration is often the result of several days of drinking too little water, you will want to increase your water intake for the next few days, even after your headache is gone, to make sure that your body is full rehydrated.
If your headache is the result of a pinched nerve or poor spinal alignment, you may not find relief until you can get to a chiropractor. You should be extremely careful and not try to do too much physical activity. Make yourself as comfortable as you can in the meantime.
Other natural headache remedies that work for many different types of headaches are things such as applying ice to your head or heat to your neck. You can also try massaging your scalp or temples. Dimming the lights in your home and turning down any noise can help provide relief.
There are also certain pressure points that provide relief for some people. These pressure points can be accessed by squeezing the webbing between the thumb and forefinger, or squeezing the side of the neck where the muscle meets the shoulder.
The best thing you can do if you have a headache is attempt to relax and breathe. Take care of yourself and don't fight it. A headache is a temporary thing, and there are steps you can take to get relief.