Nutritional Benefits of Pomegranate for Cleansing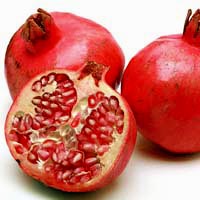 No doubt you have heard about the many benefits of pomegranate before. Pomegranate is a very unique and unusual fruit, with several amazing cleansing properties.
Although Ayurvedic medicine has been using pomegranate as a health remedy for countless years, only recently has this fruit been discovered by Western health and nutrition experts.
Pomegranate's seeds contain an amazing amount of nutrients and anti-oxidants. Among the rare vitamins found in pomegranate are three vitamins from the B group, thiamin, riboflavin, and the blood cleanser, niacin. Other vitamins in Pomegranate include Vitamin C and Vitamin K.
Pomegranate also contains the mineral potassium, an electrolyte required for brain and body function, and a number of antioxidants, such as tannins, anthocyanin, and ellagic acid. Vitamin C and niacin can also be considered antioxidants, or nutrients with an antioxidant effect.
And, as if vitamins, minerals and antioxidants were not enough, pomegranate also features a number of phytonutrients, or nutrients that can only be found in plants. Among these are high concentrations of beta-carotene and phytoserols.
So how do all of these amazing ingredients translate into something great for cleansing? To answer that, let's talk about the role of these nutrients individually, starting with the vitamins.
The B vitamins, especially niacin, promote blood flow and oxygenation, as well as the formation of healthy new blood cells. They also aid in detoxing the liver and fighting cancer, especially when they work with other vitamins and minerals. Vitamin C is another cleansing vitamin, because it boosts the immune system and aids in the defense of the body from toxins and other invaders. Vitamin K is a major cancer fighter and is currently being studied for its antioxidant properties.
Since we already discussed potassium as an electrolyte, which hydrates the body and increases blood flow and brain function, I would like to skip over it to talk about tannins, anthocyanin, and ellagic acid. These three antioxidants, like all antioxidants, bolster the function of individual cells in order to provide them with the power to fight mutations, cleanse the blood, body, liver, kidneys, and other organs, and protect the body against any mutagens or toxins. Combined with the antioxidant and hydrating vitamins and minerals elsewhere in pomegranate, and with phytonutrients, which we will talk about next, they make pomegranate a super food unlike any other.
Finally, Phytonutrients are plant derived nutrients that make up a plant's color and protect it from too much sunlight, or from disease. In our bodies, phytonutrients encourage cleansing and regeneration, while they, like the other ingredients in pomegranate, fight malformation of cells, and the build up of toxins, mutagens, carcinogens, and other invaders.
I hope that you can understand, now, why pomegranate is so important. I encourage you to juice at home, or eat entire pomegranate seeds to receive full benefits. Pomegranate makes a great breakfast or midmorning snack. It is truly a wonderful food.
=> Do you eat much pomegranate? Any recipes you've used it in? Let us know in the comments.