Overeating And The Health Of Your Digestive System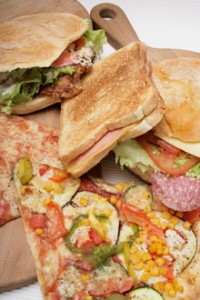 These days, it is almost too easy to get our hands on food.  There are fast food outlets everywhere you look, restaurants, grocery stores, and convenience stores on every corner!  Not to mention portion sizes in restaurants and fast food outlets.  I've been to restaurants where my so-called single serving could have fed 3 -4 people.  With this much food around, it is possible to never even feel true hunger!
When you overeat, you will feel lethargic.  Your body's energy will be used to digest and assimilate foods, leaving less energy for mental ability and physical tasks.  Just think about how you feel after Thanksgiving dinner.  If you are an overeater, then you probably feel like this most of the time.  If you overeat because you feel "hungry," then you may want to look at what it is that you're eating.
It's not just a question of how much people are eating, but also a question of the quality of those foods.  Most people who overeat tend to overeat the wrong foods.  There is a theory that the body will keep accepting foods because it is looking for nutrients.  It is much more difficult to overeat natural, fresh foods because those foods contain nutrients that the body needs.  Once the body has had enough, there is a natural switch that tells your body it's full.  When you eat foods that have chemicals and additives in them, your body gets tricked into eating more due to the lack of nutrients plus the extra taste factors (sugar, fat, MSG, etc.) in those foods.
If your body is constantly processing food, there is less attention focused on body cleansing and rebuilding.  The same goes if you eat late at night before bed.  Instead of nightly cleansing, your body will still be digesting and assimilating food.  Instead of waking feeling refreshed, you'll feel like you were hit by a truck.
Eventually, your body will start to rebel from this overeating and you're liver will start to show signs of distress.  When your liver is overworked, you're in big trouble.  The liver is responsible for hundreds of bodily processes including protein synthesis, bile production and the processing and storing of fats, metabolizing carbohydrates, and detoxifying the blood.  Every single thing you eat must be processed by the liver before it can be used in the body.  If you're overeating on a daily basis, your liver has to do that much more work!
Not only do you overwork your liver when you overeat, but you overwork other organs as well.  Your pancreas will have to work overtime releasing more digestive enzymes.  Your intestines will be overloaded with foodstuff and your elimination capabilities will suffer.  Constipation, lack of exercise, and eating processed foods and less fruits and vegetables are linked with colorectal cancer.  Toxins can be re-absorbed into the body when they sit in the digestive tract for a long period of time.  When toxins are re-absorbed into the body, where do you think they go?  Straight to the liver for processing once again.
This is why it is so important to get your diet under control.  Eat a diet predominately made up of fresh fruits and vegetables and whole foods.  Eat a clean diet, and your body will cleanse and align itself over time.  Stay away from fast foods and focus on making foods at home whenever possible.  Do whatever it takes to make eating at home enjoyable.  Search for healthy recipes online and light some candles.  Even prepare healthy versions of take out foods if that's what it takes at first.  Any step in the right direction is a good step.  Eat well and eat to live!