Pomegranate Detox Properties
Have you had your pomegranate detox today?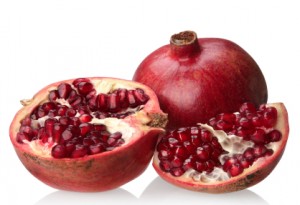 Pomegranate has been getting a lot of attention lately and becoming a very common ingredient in health foods. Pomegranate juices and extracts seem to be showing up just about everywhere. So what is it about pomegranate that makes it such a powerful ingredient during a detox diet and body cleanse?
Those who know about antioxidants know that they are responsible for keeping your body youthful and healthy. Antioxidants help your body fight off free radicals which are environmental toxins partly responsible for causing aging and the breakdown of organs. Free radicals can also be involved in the development of cancer since impurities can affect the cell-renewal process and cause mutations.
Antioxidants protect our bodies.  They fight cancer and slow aging. When most people think about antioxidants, they think about green tea, a known cancer fighter and antioxidant-rich beverage.
Pomegranate detox is possible because pomegranates have more antioxidants than green tea.
The discovery caused a stir when it was first uncovered.  Now, pomegranate, a fruit that has been used in Ayurvedic medicine for centuries is recognized as a primary source of immune boosting, cancer fighting antioxidants that everyone should take part in.
Pomegranates specifically contain a lot of vitamin C and antioxidant B vitamins. They also contain an unusually high number of antioxidants called polyphenols, the same antioxidant in green tea and red wine. In pomegranates, the amount of polyphenols is three times higher than in red wine or green tea. Drinking pomegranate keeps blood vessels from hardening, helps bring more oxygen to the heart, and prevents bad cholesterol from being deposited on the arteries.
Pomegranate detox has been shown to be especially effective against prostate cancer.
Pomegranate also shows potential for preventing breast cancer as well.The juice not only prevents damage to blood vessels, it has been shown to repair damage that has already been inflicted. Pomegranate may even prove to be an effective remedy for arthritis.
With all of its health benefits, antioxidant benefits, and its great, tangy flavor, it should come as no surprise that pomegranate is becoming more and more popular. There are so many ways to eat it that one would be foolish to try and count. One of the best ways, however, is to simply eat it raw, or juice the entire seed into a glass and drink it in the morning.
Some people suggest that pomegranate is good for both nausea and diarrhea, and since it is an anti-inflammatory agent, it can soothe a sore throat and help prevent aches, pains, and diseases associated with inflammation. If you don't feel like juicing yourself, you can buy pure pomegranate juice in the health food section of your grocery store. Just don't opt for cheap blends and concentrates that contain dyes, flavors, or added sugar. Pure pomegranate juice is very delicious, and the health benefits of are too wonderful to pass up.  Enjoy a pomegranate detox today and crack one open!