Probiotics For IBS Relief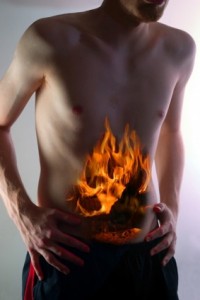 A recent study found that taking probiotics is an effective way to relieve irritable bowel syndrome. In the study done by Valio Ltd, Research Centre, Helsinki, Finland, a group of IBS patients were split into two sets. Set one was given a placebo, and the other set was given a mixture of certain living microorganisms, such as Bifidobacterium and Lactobacillus.
The study was conducted for six full months, with patients each reporting symptoms throughout. At the end of the six month study, the scientists found that those who were on the probiotic had fewer symptoms than those who took the placebo. The symptoms, such as bloating and flatulence, decreased by almost half for the people who were taking the probiotic.
Few changes occurred for those patients given the placebo. This led to the conclusion that probiotics, alone, helped decrease symptoms of irritable bowel syndrome. This study is very important.
Natural health practitioners have pushed probiotics for years as a counter to overused, overprescribed antibiotics, and as a remedy to a poor Western diet. That is because probiotics are living bacteria that are meant to replace the natural flora within your stomach.
These bacteria, or gut flora, are important because they protect the body and stomach from parasites and bad bacteria. They also help the stomach and lower intestine digest food, eliminate waste, and absorb nutrients. With an improper diet, or with a round of antibiotics, the friendly bacteria in our bodies can be killed off.
The loss of helpful bacteria in the gut is detrimental and can be the first link in a chain of health problems. Without gut flora the intestinal tracts and colon can become plugged, and food particles can be left in the stomach and intestines to rot.
Since gut flora are responsible for breaking down food and keeping the colon clean, without them, some food does not get broken down and moved through the body. When this undigested food begins to decay, it can attract parasites or fungi. The gases, fungi, and old fecal matter can lead to flatulence, bloating, constipation, diarrhea and other symptoms of IBS.
Probiotics are a living replacement for this important gut flora, and while Western medicine is not, yet, ready to accept probiotics alone as a treatment for IBA, studies show that probiotics alone do, in fact, relieve most of the symptoms of IBS. It is possible that, if other dietary changes had been implemented in addition to the probiotics, the symptoms would have cleared up completely.