The Dirty Dozen: Cherries and More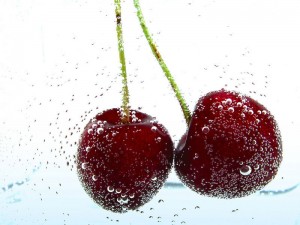 I love cherries.  I eat them as a meal, a snack, whenever the craving strikes.  Cherry season is a great season – or is it?  If you love cherries as much as we do, then there is something you should know about your favourite snack.  Cherries are on the Environmental Working Group's Dirty Dozen List!  This means that whenever possible, you should buy them organic.
I grew up eating commercial produce, and I was never really worried about what pesticides were doing to my body.  But then I ran into problems and went to school to learn about how to eat to live a healthy life.  Once I started to learn, I found out that pesticides were first designed as nerve gases for chemical warfare!  It was thought that since they killed people, smaller amounts could be used to kill insects and weeds!  Then I asked the question, "What are pesticides doing to my body?"
Toxins you consume throughout life keep piling up in your organs and fat.  It is unlikely that anyone is able to completely metabolize pesticides upon ingestion, so your body stores the toxins.  When your body can no longer contain the toxins, your body has reached it's "toxic load" and problems start to appear.  There are a myriad of problems that can arise from being exposed to pesticides:  psychological problems, migraines, body pains, depression, loss of mental ability, chemical sensitivities, breathing problems, anxiety, neural pain (specifically felt in the spinal cord for me) are just a few.
So, what can you do to lessen your toxic load?  Pay special attention to what goes on and into your body.  Take your health into your own hands and cleanse your body on a daily basis.  Want to get a good head start on cleansing?  Embark on a holistic cleansing program.  Do your best to memorize the list below and buy these fruits/vegetables organic whenever possible.  If you can't afford organic foods, then you may want to avoid these foods altogether or at least consume them less frequently.
The Environmental Working Group's 2010 Dirty Dozen List/Foods to Buy Organic:

1. Celery
2. Peaches
3. Strawberries
4. Apples
5. Blueberries
6. Nectarines
7. Bell Peppers
8. Spinach
9. Kale
10. Cherries
11. Potatoes
12. Grapes (Imported)