The Power of Green Barley Grass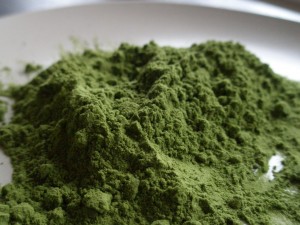 Although we don't generally recommend supplements, I'm going to make an exception for green barley grass powder.  When used along with a diet high in fresh fruits and vegetables, barley greens can skyrocket the cleansing process.
Young green barley leaves are harvested, rinsed, juiced, and dried straight away to preserve vital vitamins (beta carotene, B complex vitamins, and vitamin C) minerals, (including potassium, calcium, iron, phosphorus, and magnesium) chlorophyll, and mucopolysaccharides (important for the structural integrity of body tissues).  The final product is green barley grass powder that is non-pasteurized and alive!
Barley grass contains up to 1000 of the 3000 enzymes that are known and identified including potent anti-oxidants.  Barley grass can protect against free radicals that can damage cell walls and cause premature aging.
Barley grass juice is also very alkaline and can help restore the body's acid-alkaline balance.  This is why incorporating it into your diet can help with just about anything that ails you – be it arthritis, cancer, dermatitis, allergies, diabetes, lethargy, GI distress, headaches,  pain, sinus problems, ulcers, weight issues etc.
Since taking barley grass my skin has cleared up completely and my eyes have added shine.  When your skin and your eyes get clearer, you know that your insides are getting cleansed!  I have more energy than ever before to jump out of bed with the sun in the morning and the first thing I do is take my barley greens.  Coffee will really not be of interest once you discover barley greens!
If you're out shopping for barley grass juice, be sure to get 100% organic barley juice powder that has no added binders, fillers or preservatives!