Vegetable Detox Diet
Cleanse your entire body with a vegetable detox diet.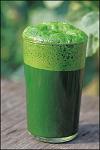 If you want a natural, holistic cleanse, fresh vegetables are the way to go. They contain everything and more needed to heal your whole body fast. You can lose weight, shed toxins, and have more energy, and you can do it all with completely natural, real foods, made by nature to keep you perfectly healthy.
A vegetable detox is an easy, sensible way to change your lifestyle, improve your health, and finally be the person you know you should be. There is no reason to continue to feel guilty for what you eat. You already know that what you normally put in your body isn't good for you. Now you need to do something about it.
A vegetable detox diet starts the moment you want it to.
As soon as you are ready, without having to spend untold amounts of money, jump through any hoops, or put yourself through a strange program, you can begin your detox diet. All you need is fresh vegetables you can eat raw, everyday, or blend into a vegetable detox drink. From there, you start to eliminate toxic foods like caffeine, dairy, glutenous grains, and sugars from your diet, and you replace them with fresh, whole foods.
That's all there is to it. No gimmicks, just fresh, real food your body knows and loves. You get to eat raw broccoli, spinach, carrots and all the things you know, innately, will make you feel and look your best. It takes will power and getting used to, and you will experience cravings for processed foods often the first few days or weeks, but, as long as you don't give into these cravings, you will find that vegetables don't just fill you up, they regulate your moods, improve your skin, hair and teeth, and provide a natural colon cleanse.
If you do a vegetable detox diet, your body will thank you again and again.
No one wants to be unhealthy. Your body is made to heal itself and to keep you alive and living well. Think of it as a conscious machine. It wants to be in optimum shape and run efficiently every day. The problem is, it needs the right fuel. When we provide it with too much sugar, processed foods, and chemicals, and not enough nutrients, it does its best, but it can never live up to it's full potential.
That means you are left with a tired, achey, body, vulnerable to illness and disease. You deserve better, though, and you can have it. All you have to do is commit your will to taking in the kinds of foods you know will make you feel great; fruits and vegetables. When you do a vegetable detox diet, you show yourself and your body you are ready for a real change and a better, healthier lifestyle.