Vegetable Detox Drink
A vegetable detox drink is a great way to get healthy, whole, cleansing ingredients into your body quickly.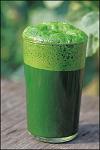 When you juice or blend vegetables at home, you are doing something for yourself that can't be done for you at the store. You are creating a powerhouse of living nutrition, and you are introducing it directly to your body in a way that is easy to digest. That is why juicing and blending vegetables is such a great idea.
During a vegetable detox, drinking some nutrients will speed up the process of toxin removal. It gives your digestive system a break and helps you flush poisons and take in vitamins and minerals all at the same time. This is because blended and juiced vegetables are already broken down enough for your body to assimilate them right away, and that means you get more cleansing power and exert less digestive energy, so you give your body a chance to heal.
Making a vegetable detox drink is easy.
All you need to make a detox drink is a blender or a juicer, fresh, clean, organic herbs and vegetables, and a solid recipe. To start, use three extremely beneficial leafy greens: parsley, spinach, and kale. Then you can add in other delicious, healthy vegetables, like carrots, garlic, and onion. For something to take the edge off, blend in an apple, or, better yet, a ripe tomato.
If you are using your blender, placing an avocado in your vegetable smoothie will give it a nice texture and provide hard to find beneficial fats and vitamin E. As long as you stick with whole foods, it's hard to go wrong. Experiment with your favorite vegetables, and see if you can come up with a new recipe each day.  There is a variety of produce to enjoy and explore.
Your vegetable detox drink makes a great breakfast, lunch, or afternoon snack.
When you choose to work vegetable juices and smoothies into your vegetable detox cleanse, you ensure your body stays healthy and clean. You can also use the vegetable drink to help recover from over eating, or eating junk food the day before. If you happen to spend a night at the movies, for instance, and consume too much candy and popcorn, having a veggie drink for breakfast will help you undo the damage from all of that sugar.
During your detox diet, you should try not to cheat, but if you do, don't give up. Just use the next day or the next meal as a chance to correct your eating. A juice or a smoothie is an excellent way to put yourself back on the band wagon. It is also an excellent cure for constipation, and much preferred over laxatives and other remedies.
Whether you are detoxing for the first time, cleansing after a big meal or too much sugar, or just want to keep your body regular and heal your digestive system, you can't go wrong with whole, fresh vegetables. Better yet, when you make delicious produce into a wholesome juice or smoothie, you get a ton of cleansing power, and a concentration of perfect nutrients delivered to you almost instantly! It's what makes a vegetable detox drink so popular and wonderfully effective.