What is the Cabbage Soup Diet?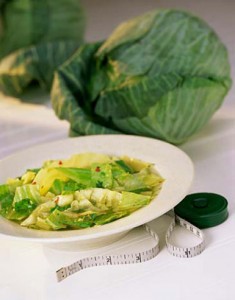 The cabbage soup diet is a rapid weight loss plan that uses a very low calorie soup to cause dieters to lose large amounts of weight fast.
It prescribes a seven day diet plan, containing few carbs, proteins, vitamins or nutrients, and few calories. Because the diet is not nutritious enough to be sustainable for long periods of time, the cabbage soup diet can be referred to as a fad diet.
People who have tried the diet do report rapid weight loss: up to ten pounds in one week. Scientists and doctors, however, believe that this kind of fat loss is nearly impossible, and speculate that the majority of the weight loss is water-weight, and not actually fat. Cabbage soup diet fans say that cabbage is a natural fat burning food, which, combined with fewer calories, can cause the body to metabolize fat very quickly.
Although the cabbage soup diet does not appear particularly dangerous, and is probably effective towards temporary rapid weight loss, it is not a good diet for detoxifying or cleansing the body, and will not provide a permanent weight loss solution.
The diet recommends black tea, and coffee, various salty preservative-laden foods, like onion soup mix and bouillon cubes, and even suggests a baked potato smothered in butter. The diet also provides little to no essential nutrients, and contains too much sodium and not enough carbohydrates and proteins.
For those looking for a long term solution that provides greater health and lasting results, the cabbage soup diet should be overlooked. Instead, opt for a detox and weight loss plan that creates more health, balance and energy, without stripping your body of essential nutrients. Without nutrition in your diet, your body will not be able to cleanse itself and heal from past dietary and environmental stresses. You may lose weight on the cabbage soup diet, but you won't gain energy, health, or mental clarity. You also cannot maintain such an extreme and unhealthy eating regimen.
For fat loss, weight loss, more energy and mental focus, and to feel better than you every have, consider totally changing how you view food and how you feel about what you eat. You can learn about the toxic side of food, common problems that are caused by a poor diet (besides weight gain) and how to change the way you eat forever. A fad diet is just a fad; a passing phase, only good for the moment. A cleansing, healing, detoxifying diet is good for life.