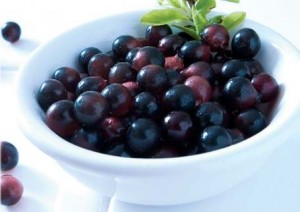 If you've been living on planet earth the last few years, you've undoubtedly seen and heard about the touted benefits of the acai berry cleanse, right?
And you've probably also heard about the money-making scams that a lot of these acai berry cleanse sites have been running.
We'll save the fraudulent credit card activity for another day.
Today, I want to tell you the truth about the acai berry cleanse scam because there a lot of myths that need to be unmasked!
Can the acai berry cleanse help you lose weight? Are these berries worth the money or are they just another fad "superfood" to become the latest craze?
All that and more in today's article on the acai berry cleanse, so keep reading!
Let's start with what an acai berry is. It is a small, purplish berry that grows on the acai palm tree. It grows primarily Central and South America. Acai is especially popular in Brasil and is kind of like the blueberry of that region.
The berry is high in fiber, omega fatty acids, and antioxidants. But so again are most other berries.
Let's continue by first looking at the antioxidant properties of this super berry.
Antioxidants in Acai Berries
It's no secret that antioxidants are extremely important for your health. You'd be hard-pressed to find even one study that doesn't indicate antioxidants can improve health, help cure disease, and even promote longer life.
According to a study from the Journal of Agricultural and Food Chemistry, the total ORAC value (the gold-standard for measuring antioxidants levels in food) of freeze-dried acai berry is 102,700 units per 100 g.
This is very high. In fact, acai berries have slightly greater ORAC value than raw cacao, making one of the top 5 foods in terms of antioxidant levels.
But just how much acai berry do you need to consume to get any real benefit? And how much would that cost, considering that 99% of people reading this don't have acai berries growing in their backyards.
We'll find out in just a moment…
But first, I need to expose the biggest fallacy with what most people associate with the acai berry cleanse…
Rapid and extreme weight loss!
Acai Berry Cleanse and Weight Loss
I can't tell you how annoyed I get when I see an ad displaying ripped 6-pack abs only to find out that the product being promote is a jar of acai berry pills!
There's absolutely no association between the two. Even if you ate pounds upon pounds of fresh acai berries each day, you wouldn't lose a ton of weight and you surely wouldn't get ripped enough to see those wash-board.
You need to be aware of this!
With the new year fast approaching, more and more people will be exposed to the "supposed" benefits of acai berry juices, pills, and other gimmicks but do not get taking for a "ride".
All of these weight loss miracles are absolute garbage. And let's not forget about the fraudulent schemes behind most of these acai berry cleanse scams.
There is absolutely nothing documented or research-based that can substantiate any weight loss, let alone extreme weight loss, claims.
While acai berries do contain numerous health-promoting properties, they definitely shouldn't be what you're banking on for overnight weight loss!
After all, you are probably better off saving your money (you'll see why in a second) and eat a pint of blueberries each day then wasting hundreds of dollars a month in acai berry juices and pills.
Plus, one "superfood" will NEVER overpower your overall diet.
The Financial Burden of Acai Berries
High quality acai berry supplements and not juices are not cheap. Depending on the quality and source you can expect to pay $35 to $80 for a single bottle of acai berry juice.
That's a lot of fresh produce if you ask me.
And again, what good is 1-2 ounces of acai berry juice going to do for you in relation to your overall diet?
Not much.
If you're already eating well, great. Keep it up.
If your diet is crap, then save your money and focus on cleaning up your diet with proper whole foods.
That, in combination with regular exercise, will help you achieve your weight loss goals faster and for longer than anything else you will ever come across.
That's the truth. Even if you don't want to acknowledge it.
But let me play devil's advocate for a second.
Let's say you buy a bottle of acai berry pills that gives a ONE month supply for just $30. Typically, that would yield just one acai pill per day. Not much.
And what has science revealed to us about supplements vs. whole foods?
Whole foods are ALWAYS better. Your body recognizes how to assimilate them since each component in the food assists in the digestion/assimilation of the overall food.
Supplements and pills that isolate only one compound from a food come nowhere close to matching the bioavailability or efficacy of a whole food.
Therefore, you might as well put that $30 towards a few pints of blueberries or green vegetables.
Even if you're drinking acai berry juice you don't know how long ago it was bottled. You have no way of knowing the pureness or nutrient quality of that product.
(I guess none of us know anything about any food we eat for that matter).
But the fact remains, you're far better off putting your money into real food that can be part of your daily diet than you are relying on one daily pill or shot of acai berry juice.
It just doesn't make sense.
And unfortunately millions of people have been tricked into believing that these kind of gimmicks will actually help them lose dramatic amounts of weight without doing the hard work that is required to do so, normally.
At best, any benefits reaped from these kinds of ploys can only be short-lived because they don't teach you how to change your dietary and lifestyle habits. And for that reason, I would NEVER recommend you or anyone else waste your money on them!
What are your thoughts on the acai berry cleanse? Let me know in the comments.
Previous Report
#1 – Dangers of Rapid Weight Loss
Coming your way tomorrow…
#3 – Colon Cleansing Detox Scam
————–
References:
Schauss AG, Wu X, Prior RL, Ou B, Huang D, Owens J, Agarwal A, Jensen GS, Hart AN, Shanbrom E. Antioxidant capacity and other bioactivities of the freeze-dried amazonian palm berry, Euterpe oleraceae mart. (acai). J Agric Food Chem. 2006 Nov 1;54(22):8604-10.
acai berry cleanse
19,027 Responses to "Acai Berry Cleanse Scam"