Detox Diet Juices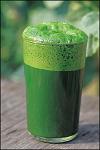 All recipes use organic ingredients. All fruits and vegetables should be washed and then juiced according to your juicer's specifications.
Lemon water with Cayenne
8 oz. luke warm water (you should be able to drink it quickly without being burnt)
Squeezed juice of 1 lemon
pinch of cayenne powder
mix all ingredients in a glass and drink quickly. Drink this in the morning, before a raw, healthy breakfast. Follow with several glasses of water throughout the day.
The best Green Juice
8-10 spinach leaves
4 large, bumpy kale leaves
1 onion
2 cloves garlic
4 fresh parsley sprigs
4 large, fresh basil leaves
1 sweet apple
Juice all ingredients and stir thoroughly. Tastes best chilled.
Antioxidant Juice
seeds of 1 pomegranate
2 cups blueberries
2 cups raspberries
2 cups blackberries
2 kale leaves
3 sprigs of arugula
1/2 lemon
Juice all but lemon, then squeeze lemon juice into glass, stir and drink.
Root Vegetable Juice
2 carrots with greens
2 large beets with greens
4 whole chives
2 cloves garlic
2 sweet apples
Juice all ingredients and stir thoroughly.