Stronger Bones Through Cleansing with Greens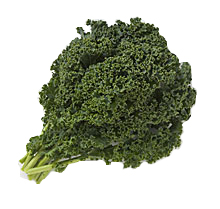 If you think dairy is the best way to get your bone-strengthening Calcium, think again. Dairy and milk products may contain calcium, but there are so many other things in cow's milk that make the calcium useless to our human bodies.  Cow's milk also contains mucogens, antibiotics, hormones, and allergens. Humans aren't meant to drink cow's milk and we aren't meant to drink [breast] milk at all past our infant-hoods; in fact, most of us are allergic to cow's milk!
We don't need milk to get our daily dose of calcium and other nutrients or to strengthen our bones and teeth. Fresh greens, like kale, collard greens, beet greens and turnip greens, just happen to have all the calcium we need, and with a lot of other essential nutrients and cancer-fighting antioxidants. Fresh greens provide a much more complete, healthy set of vitamins, minerals, fibers, and antioxidants.
Dark leafy greens contain the most calcium, but other greens, such as broccoli, bok choy, and Brussels sprouts are also good sources of calcium. In addition to calcium, these foods also offer significant cleansing power by purifying the blood, promoting cell renewal, the eliminations of toxins, and cleansing of the liver and kidneys.
The cleansing power of leafy greens along with the calcium they provide make cleansing with greens and green juices a great choice. Kale, for instance contains calcium, along with two powerful antioxidants, flavonoids and carotenoids, which cleanse and purify the blood and prevent cancer. Kale is also an anti-inflammatory, which is significant since inflammation is present in nearly all disease and discomfort.
Spinach, although not as good a source of calcium as kale, still contains some calcium, along with iron and other nutrients, antioxidants and significant cancer fighting properties. Broccoli is an excellent source of calcium and iron, vitamin C, and folates, all of which help your body absorb and use calcium, making broccoli one of the most complete and nutritious vegetables available.
For cleansing and building strong bones, bok choy, a chinese cabbage is literally packed with antioxidants, vitamins and minerals. Bok choy is often overlooked, but is famous as a crunchy part of American-Chinese dishes, and holds up well when lightly sauteed. Bok choy can also be juiced with fruit and other vegetables for the added benefits of raw foods.
So when it comes to strong bones, skip the dairy. There is no need for us to get our nutrients from milk and other dairy products when nature provides them in healthy, whole, plant sources. Plant sources of calcium provide what your bones need, and a whole lot more, making them the best choices for cleansing, calcium, and complete health.