Today's the day where we're giving you the chance to win a free copy of our Total Wellness Cleanse program.
And it couldn't be easier…
All you have to do is the following:
In the comment section below…
In a few short sentences, tell us why you NEED the Total Wellness Cleanse (other than for financial reasons) and how you think it will help you achieve your health, weight loss, or other goals.
That's it!
This contest ends tonight at midnight. It is New Year's Eve after all!
Tomorrow, we'll randomly select THREE winners from those who have left their comments below. And I'll be sending out an email tomorrow morning to announce those winners.
Best of luck!
====================
.
Here's What You Get With the Total Wellness Cleanse
The Starter Kit (which includes the following components)
Cleanse Introduction
Fundamentals of Digestion
Fundamentals of Detoxification
Guide to Assessing Your Own Health
Eternal Health – 4 Elements Cells Need to Thrive
Helpful Detoxifiers
Cleanse Food Guide
All of these components are fully on the main cleanse site but in a nutshell, this is the information you NEED to know to take your body through a safe and effective cleanse.
Perhaps most importantly, you'll also receive…
Cleanse Phase Meal Planner
Contains all of your meal plans for the first 14 days of the cleanse (called the "cleanse phase"). This is true peace of mind because you'll know exactly what to eat for each meal of the week!
Cleanse Phase Recipes
66 incredible cleansing recipes that will nourish your body and soothe your soul. With a vast selection of raw and cooked plant-based recipes, you'll be amazed at how good cleansing foods can actually taste!
Post-Cleanse 8-Week Meal Plan (maintenance phase)
Once the initial 14-day cleanse phase is over you'll need additional structure and support to keep strong. That's what this 8-week meal plan is all about.
Post-Cleanse Recipes
53 delicious recipes that will continue to cleanse your body while offering you a little bit more flexibility than some the cleanse phase recipes.
Daily Inspiration Journal
We all need inspiration to live to our fullest potential and make every day our best day ever! This journal contains 30 inspirational lessons (to be read one per day) that will transform your life! Let's just leave itat that.
The Success Journal
Are you someone who starts and stops? Do you begin a healthy endeavour only to see it fall by the way side just a few days later? If so, then this tool, alone, will be worth you committing to the Total Wellness Cleanse.
Poop Tracker
Yes, you read it correctly – the Poop Tracker.
Are you constipated? Do you strain to pass bowel movements? Do you have loose stools? Does your stool smell so foul that it peels paint from the walls?
What do these mean? We'll tell you everything you need to know and how to rectify your "poop" situation.
Daily Food Journal
This 30-day journal is one of the most basic yet fundamental pieces of the Total Wellness Cleanse.  Here, you will record what and when you eat/drink, and note any reactions or cravings your body experiences as a result of your food/beverage intake.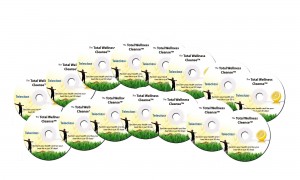 AND…
You'll receive 13 teleclass audios that cover ALL aspects of nutrition, detoxification, weight loss, and health. These are recordings from our live cleanse full of answers to most to the most common questions and so much more!
The Teleclass Audios Include:
Teleclass #1: Getting Started on the Total Wellness Cleanse
Teleclass #2: Colon Health, Candida, and Parasites
Teleclass #3: Weight Loss Explained!
Teleclass #4: Organs of Detoxification and The Physiology of Cleansing
Teleclass #5: The Truth About Fats and Oils
Teleclass #6: Preserving Healthy Bones and Preventing Osteoporosis
Teleclass #7: The Scary Truth About Sugar
Teleclass #8: Understanding the Thyroid-Adrenal Connection
Teleclass #9: Understanding Food Labels
Teleclass #10: Food and Environmental Allergies
Teleclass #11: Overcoming Emotional Eating
Teleclass #12: Success Psychology and the "Inner Game"
Teleclass #13: Celebration and Final Thoughts
And to help you bring ALL of these components together, we give you full 100% support through our…
Daily Coaching Emails!
These emails will inspire you, keep you on track, and show which components to read and which teleclasses to listen to on any given day!
As you can see, this is just another ebook or nonsense detox supplement.
The Total Wellness Cleanse is the most comprehensive, fully supported, and effective food-based cleansing program that creates incredible short-term and long-term change!
The total value of the program is $997 and, when we ran it live, our members paid a whopping $547!
Right now, the Total Wellness Cleanse sells for $247 but you won't pay anything near between Monday Jan 2 and Wednesday January 4.
And the best part is that you can WIN A FREE COPY! Just tell us WHY YOU NEED IT (in the comments below).
===========================
.
Now, onto some transformations…
"A friend who hadn't seen me in a while commented that I have the skin of a teenager. I lost 10 pounds, an inch from my waist, and two and a half inches from my hips!"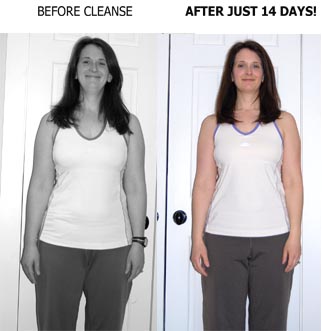 "This cleanse is amazing. It far surpassed my expectations. I had tried seven or eight times to quit drinking coffee in the past with no long term success. Thanks to the cleanse, I have completely eliminated it from my life.
I had been addicted to sugar since I was a child, and that is no longer part of my daily life either. I had been eating wheat and dairy all of my life and have suffered from almost constant headaches. Yuri and Amy figured out that I am sensitive to these, and I have drastically reduced my intake of them.
I have far fewer headaches, and when I do get headaches now, it's because I am behind on my water intake. My skin is smooth and acne free. A friend who hadn't seen me in a while commented that I have the skin of a teenager. I lost 10 pounds, an inch from my waist, and two and a half inches from my hips.
I have more energy now than I have had in many, many years. I now have the energy to write the book I have been dreaming about writing, on top of my busy schedule.
Mostly, I value the wealth of knowledge I obtained on how to truly love and care for myself, body, mind and spirit. Yuri, Amy and Adam have given me an opportunity to change my life for the better. I am very grateful to them."
Jennifer Ripa-Edson
Ridgebury, Connecticut
================
"The Most Life Changing Decision I've Ever Made For Myself!"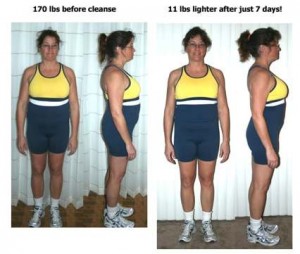 "By the close of 2008 I had spiraled down into a sedentary lifestyle with dangerously poor eating and drinking habits. I was in my late forties, depressed, over-weight, and unhealthy. Instead of dealing with my problems head-on, I drowned them in beer every night. I am a former US Marine, and not only was I ashamed of how I let myself become, I was setting a very poor example for my three teenage daughters. My friends and loved ones were concerned for me. I knew it was time for a change, but my past attempts had only resulted in weakness and failure, so the cycle continued.
The Master Cleanse had been getting a lot of press, so I was considering using that method to "shock" myself back into health. I was doing some research on youtube.com when I came across a video of Yuri talking about how the Master Cleanse might not be a healthy choice. I read through all of the literature for the Total Wellness Cleanse and it sounded like a healthier and an all encompassing cleanse. I thought it was just the thing for me to turn my life around… and boy, was I right!
As a Christmas gift to myself, I made the investment in my health and well-being and I joined the 30 day Total Wellness Cleanse. Gosh darn it was WORTH it, and I was ready!
My initial weight was 170 for my 5'7" frame. I was considered obese by most standards. My blood pressure was pre-hypertensive, my cholesterol was out of whack, and my triglycerides were 226 – too high.
Amazingly enough, I didn't suffer many detox symptoms from alcohol withdrawal, and although it was a bit of a challenge to get used to thinking about what I was going to eat throughout the day and the next (the exact opposite of FAST food!)… the recipes were varied enough that I never felt bored or hungry. My first week I lost 11 pounds! After the 3rd day, I would wake up BEFORE my alarm went off in the mornings and jump out of bed full of energy. People who know me will vouch that I am totally NOT a morning person. This extra energy alone amazed me.
As the next three weeks progressed, I felt empowered by the daily inspirations. They really made me think about and change the way I looked at my world. I could feel my depression lifting and my hopes expanding. I was making great changes in my life and in my self and it showed. Everyone was cheering me on and marveled at the transformation and determination I was exhibiting. I could feel myself getting physically stronger after only a week of doing Yuri's Fitter U workout program and I plan to continue the program all the way through.
At the end of the 30 days, I had dropped a total of 19 pounds. My blood pressure was back to normal, as was my cholesterol and triglycerides.
What I enjoyed most about this Total Wellness Cleanse was that it was just what it says. A TOTAL wellness cleanse. All aspects of making major life changes for the better were addressed. It wasn't just a diet. It covered the physical, mental and spiritual aspects, which boosted me up and kept me going through the 30 days. Yuri and Amy seem genuinely interested in your progress, your questions and concerns.
It really seems like Yuri and Amy have thought of everything to get me through the 30 days. They provided plenty of interesting nutritional information, daily plans for meals, meditation, goal setting and exercise. The daily inspirations, emails and the teleclasses made the experience so personal. It was virtually impossible to fail! Thank you Yuri and Amy! You have helped me to help myself. My life is permanently changed for the better for having experienced the Total Wellness Cleanse!
Kristine Thom
San Diego, CA
======================
"I have been off chronic medication since I started the cleanse and trust that it is now something of the past."
"Prior to the Total Wellness Cleanse I had been struggling with my colon, sinus and bad skin for a very long time. However, I saw a marked difference within 5 days of starting the cleanse. It has now almost been two months and my life has changed.
I have been off chronic medication since I started the cleanse and trust that it is something of the past. I have also managed to lose 9kg, which is something ells I have been struggling to do.
I have loads more energy and a total different outlook on life.
Thank you for changing my life, and inevitably changing my family's life. Lots of love."
Marisca Fourie
Centurion, South Africa
======================
"I lost 17 pounds in 3 weeks and went from 24% body fat to 21%…"

"I was an overweight mother of two, who was suffering with excess weight and increasing issues with skin allergies, feeling lethargic and falling hair. I had tried different diets and also worked with fitness trainer but still did not see any progress. My belly area was big such that many of my close friends sometimes wondered if i was pregnant.
I listened to his introduction call for the Total Wellness Cleanse and decided to join after understanding that the cleanse would help me address some of the issues that i have been struggling with for long time.
I am very glad that i joined. I was so impressed with the amount of information Yuri and Amy provided with this program and the support his team provided as part of daily coaching emails and on questions we may have had, as we moved along this program.
I lost 17 pounds in 3 weeks and went from 24% body fat to 21% and learned a great deal about eating right and eating healthy. I can honestly eat this way for rest of my life. My skin has improved, with husband and friends seeing a significant change in my skin glow and my mood.
I have learned to read food labels and identify healthy food and foods that do not do my body any good. I do not crave sugars anymore and automatically choose healthier foods over not so healthy. I have learned to listen to my body and understand my body needs.
I also workout 5 times a week using Yuri's Fitter U workout program and I have seen a tremendous increase in my energy levels. I recently bought new clothes and am surprised on how well they fit. Thanks again!"
Amrit Agarwal
Ashburn, Virginia
=====================
"I lost 24lbs during the 30-day cleanse.. My complexion is better and I'm not getting any more of those wicked hypoglycemic headaches!"
"First, thank you for all your hard work in putting the cleanse together and for all your support throughout. I really enjoyed learning about the ways various foods affect my body and the whole physiology of blood, organs, digestion and elimination systems and you've provided a wealth of information I can keep referring to.
I lost 24lbs during the 30-day cleanse and have lost another 2lbs this past week. I feel great in my body and much more lithe. My complexion is better and I'm not getting any more of those wicked hypoglycaemic headaches.
More important than all that all that hard data, I've completely changed how I think about food and what I put into my body. Yeah, I'm still having the odd Hershey Kiss here and there, but it doesn't derail me. I enjoy them and then continue with "green stuff". Thanks again."
Nathalie Peladeau
Toronto, Canada
=====================
.
Talk about some amazing transformations, right?
And all in less than 30 days, and most cases just 10-14 days! And ALL without exercise. Just imagine how much incredible their transformations would have been with 1-3 workouts per week!?
You too can enjoy these kinds of results!
Now, I'll be quite honest by telling you there's a lot of stuff you get with our Total Wellness Cleanse. It would be crazy for me to describe all of it here in detail, but I'll do my best to give you a synopsis of the various components of the cleanse.
COMING YOUR WAY TOMORROW…
Check your email first thing tomorrow morning (Sunday) as we'll be announcing the 3 lucky winners of this giveaway.
=> Post your contest entry below and HAVE A FANTASTIC NEW YEAR'S EVE!